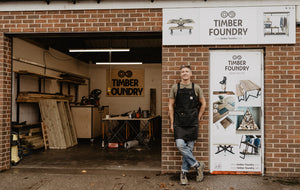 OUR STORY
Timber Foundry's humbled beginnings started in 2016, like many other businesses, from our back garden! Back then, James was working in a corporate role travelling extensively throughout the UK and Europe. The job was based around sales and design coupled with sustainable practices, which whilst extremely enjoyable didn't fulfil his true passion of creating furniture.
Having previously trained in joinery and carpentry, he dreamt of taking his current knowledge and transferring to his own business. Every weekend and free evening was spent immersing himself in new techniques and spending money on tools! He soon began producing bespoke items for family and friends from the 12x6ft family shed!
Our furniture is completely handmade from scratch at our workshop on the outskirts of the Peak District. We handpick every piece of timber from our local merchant who are fully regulated with the FSC and PEFC.
Sustainability Practices
When the industrial trend arrived, James teamed up with his brother Nick, a metal fabrication expert with 15 years commercial experience. Together they scoured the market to understand how this style could be designed, produced and made in a more sustainable way.
Whilst industrial furniture should be reminiscent of the era, they wanted to produce products in a more contemporary clean design that was finished meticulously and left to age with grace.
See Industrial Collections
Wood
Each piece is full of character and completely unique. All the wood is fully kiln dried before we get to work, ensuring the best long term stability. Sustainably sourced timber only!
We only use 100% FSC or PEFC regulated timber from our local registered merchant
Metal
The metal is forged in the UK, something that is extremely important to us, and delivered locally from our family run supplier. They have been trading since 1889 and it is still family owned under the 5th generation! Finally, the metal is cut, fabricated and powder coated for maximum durability.
Showcasing Our Products
We pride ourselves on keeping everything in house even down to the photography!
Although we don't have a showroom, we are really confident that you'll be able to see the standard of our workmanship and the quality of our furniture online.
Meet James and Nick
THE TEAM
We are a super friendly bunch so if you have any questions, no matter how small, feel free to jump on our live chat or if you'd rather talk, our telephone number is 01246 923332.
SOCIAL MEDIA AND REVIEWS
Our social media channels include regular updates and images of the manufacturing process as well as real life images. You can find us here on Facebook, or alternatively on Instagram.
We receive lots of emails from customers complimenting our products and customer service which you can view throughout the site on various items.